The downsides?
All work is first come first served, and the waiting list can be from 2 weeks minimum up to 4 weeks
All new enquiries are answered as soon as possible but it's not possible to man the phone when work is being carried out
I aim to respond within 24 hours
I am unable to react quickly or change the first come first served production bookings for "Full Restoration" paintwork that is for whatever reason an emergency, unless a cancellation happens, which is very rare.
Buckled and cracked wheels can be fitted in between bigger jobs but can still take up to 3-4 days to complete the repairs as the work is often sub-contracted to professional certified specialists.
Workshop time is allocated by appointment only
The Wheel Restorer is not:
A Business Franchise, a touch up, cosmetic or temporary repair company able to work on your car under a small tent in your driveway or in a car park, or someone who can repair & paint your wheels in one working day.
---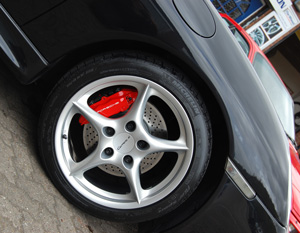 Opening Hours
Mon - Thur - 9am to 6pm
Friday: 9am to 12 noon
Saturdays alternate weekends
(Call to check)
Sales Enquiries
01978 352980
The phone is not always manned. Please leave a message and I will get back to you as soon as possible.
For visits to the workshop for quotations etc, please call to make make an appointment.
Buckled, bent and cracked wheels also need to be booked in for inspection.
Enquiries received via the Online Enquiry Form will be responded to within 24 hours (except weekends)